A day in the life of a learning technologist
I have procrastinated far too long about what my first post on my new blog should be and decided why not just introduce me and what I do with a bit of a "day in the life of…". This may prove more difficult than I first imagined though as to be honest, as a learning technologist, two days are rarely the same.
Let me start at the beginning, what is a learning technologist? Well, that kind of depends… sucky answer huh? It does though, although roughly a learning technologist is someone who supports the use of technology in an educational setting, that can vary from institution to institution or even within our institution, from school to school. So this is a day in the life of a learning technologist at Edinburgh College of Art, where I am part of the team who support staff who want to use technology to enhance teaching.
Being an art college, we have a lot of classes that don't fit into the standard university mould, and some that do, makes for some really exciting and challenging days.
Today for instance, the morning starts off pretty standard, answer calls for help with using technology, usually the VLE and usually nothing too crazy but by mid morning our skills really are tested.
For a class about media and culture, there is a section where we look at the emotions prompted by a particularly exciting and then sad scene in a movie. This involves the class in the room being able to see the movie clip on the big screen, a volunteer watching the clip while wearing a device that reads their brain activity and then outputs it in graphical form onto another screen so that the class can see it.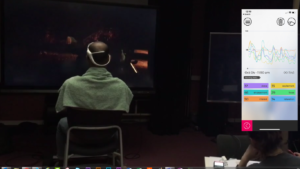 So far so good, but now comes the more difficult bit, this class happens to have students who are watching live online as well, so how do we get a video of what is happening in class to our online students, including both screens, the teacher teaching and the in class discussions. Oh and did I mention this all happens in a room which has no central AV support, and isn't part of the lecture recording roll out? Now you see why I thought this was a good example of learning technologists working as part of the teaching team to create some fantastic teaching.
These are the days when you are reminded how much fun your job is, but I didn't get to enjoy it for long, once everything is running smoothly, it's time to jump on the bike and head off to the other side of our campus to look at possibilities for textiles students to work in collaboration with a company overseas, I do love how connected our technologies and the internet can make us. Not as taxing a challenge as the first class of the morning but really exciting none the less as this opportunity to connect students and practitioners from all over the globe is such a rewarding venture. Having a good community of practise around your learning is so important, and being able to help enhance and enlarge this for our students and being able to help them discover ways to make technology benefit their learning is why I got into this job in the first place.
So the morning was a challenge, invigorating and I even got in some cardio, the afternoon was at a much more sedate pace, a little bit of lecture recording training and set up with some of our design staff, nothing too taxing but still an opportunity to help the team at ECA to continue offering some fantastic learning opportunities to our students.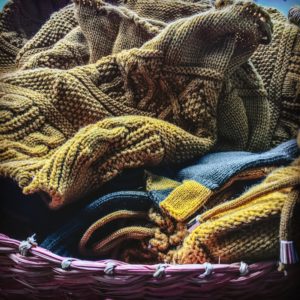 I haven't even mentioned what my team mate Iraklis was doing while I was running around teaching spaces…
Time to put my feet up yet?